Saturday, February 9, 2019 at 11:21PM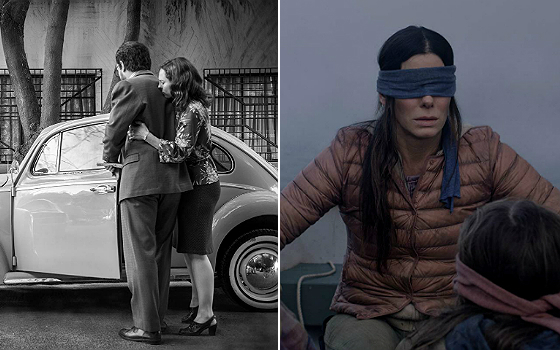 Roma's 10 Oscar nominations underscored not only the streaming service's growing clout in Hollywood, but confirmed what analysts have been noticing since it hit airwaves a dozen years ago:
Netflix is altering almost everything we view, from movies to TV shows to viral videos.
Despite its fourth — and biggest — price hike in its 12-year history, 2018 proved a stellar year for Netflix and, more importantly, demonstrated the increasing reach and muscle of the streaming service. Roma's 10 Oscar nods tied The Favourite for most nominations.
Netflix announced a price hike of 13% to 18% (or $1 to $2 depending on viewing package) earlier this month, explaining that the hike would generate an additional $1 billion for new programming. Despite the hike, only 3% of its 140 million subscribers said in surveys they would drop the service, and Netflix stock rose 7% on the NASDAQ the day of the announcement.
From commercial movies to traditional TV to competing streaming services to the Internet itself, Netflix has become the Miramax of its day, only bigger, changing the viewing landscape the way the arthouse studio once changed film.
Consider its recent achievements, announced in a quarterly last month, in which it is finally sharing audience numbers. And they're huge:
Netflix said that Bird Box, released last year, added another 35 million households in the first four weeks after its release, bringing its total audience to 80 million households. Considering the average movie ticket costs $9.12, that means Bird Box drew the equivalent of $729.6 million at the U.S. box office alone. And that's assuming only one viewer per household watched.
Sex Education, a new Netflix program geared to demographically-friendly younger audiences, reached 40 million households in just four weeks.
The service is expanding internationally as well: Elite, which comes out of Spain, reached 20 million households in its first month, while Bodyguard (the UK), and The Protector (Turkey), and Baby (Italy) all reached more than 10 million households in their first four weeks.
Netflix is dominating high-profile skirmishes with other outlets, too. The Lifetime network released the chiller You with such high hopes that it greenlit a second season before the first was released. But when it pulled in an average of only .6 million viewers, it sold the rights to Netflix, which promptly pulled in 40 million viewers its first month.
In a battle of streaming services, Hulu attempted to get the jump on Netflix with a documentary on the catastrophic Fyre music festival, unexpectedly opening Fyre Fraud four days before Netflix's Fyre. While critics split over which was the better documentary, Netflix grabbed the headlines with a GoFundMe crowdfunding campaign that has raised more than $100,000 for vendors cheated by the scam festival.
Even YouTube has had to contend with Netflix's reach. Following the wildly popular #Birdboxchallenge, the viral video outlet banned dangerous stunt videos from its airwaves.
Already, traditional TV networks and Hollywood studios are feeling the pinch. To date, Netflix has captured 63 Primetime Emmys, 31 Daytime Emmys, and 11 Screen Actors Guild Awards. Earlier this month, it was the surprise winner of Best Picture and five other statues at the Critics Choice Awards and the winner of two Golden Globe Awards, for best director (Alfonso Cuarón) and Best Foreign Language Film.
The movie's 10 Oscar nominations have already ratcheted up the battle between theaters and home viewing. AMC and Regal theaters, the nation's largest theater chains, announced they will ban Roma from playing during their Oscar Best Picture Showcase Screenings. Every year AMC and Regal screen the Best Picture nominees back to back, but because Roma was released on Netflix, only seven of the eight nominees in will play in 2019.
Perhaps most intriguingly, Netflix estimates that it now accounts for 10 percent of TV screen time in the US. (Its math here: Netflix says it streams 100 million hours a day to TV screens in the US, and it figures those TVs — which include more than one TV per household, plus sets in bars, hotels, etc. — are on for a billion hours a day.)
"When you think about some of the distribution deals (we've) done over the last couple of years," Eric Sheridan, a Nexflix analyst, said in the company's quarterly report, " that's creating some noise."
Scott Bowles
|
Comments Off
|