Thursday, December 6, 2018 at 04:53PM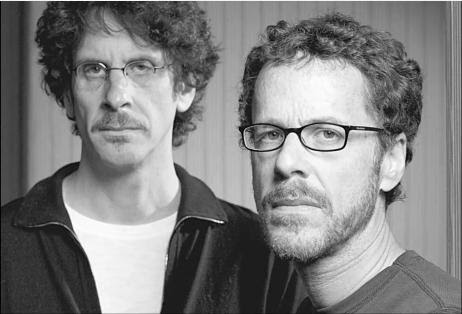 By Larry Armstrong for USA TODAY
This is a true story. The events depicted in this article took place in Los Angeles in 2007. At the request of the participants, the names have not been changed. Out of respect for the readers, the rest has been told exactly as it occurred.
You shouldn't need a disclaimer when writing about directors.
They're supposed to be the sane ones in Hollywood. The ones who aren't elusive, enigmatic, unreadable. The ones who give a straight answer to a straight question.
Then there are the Coen brothers, who have yet to see a rug they wouldn't love to yank from beneath your feet.
Since Ethan and Joel Coen made their debut with 1984's crime noir homage Blood Simple, they have made a career out of messing with our heads. Sometimes it's the inexplicable ending, such as the climax of Barton Fink. Or the oblique symbolism, such as the drifting fedora in 1990's Miller's Crossing.
Or, in some cases, the brothers simply lie to your face. Their most acclaimed film, Fargo, begins with a prologue much like the one above, explaining that it's based on a real-life kidnapping-gone-awry in Minnesota in 1997. They later admitted it never happened.
"I'm sure there probably was a true story like that," Joel shrugs over a grapefruit breakfast. "It was just too much trouble to try to find one."
They revel in stories that put moviegoers on their heels and are back Friday with No Country for Old Men, a bloody thriller set on the Texas border that is
both a return to their beloved crime films and a departure from anything they've done before.
Gone is the coterie of actors who populate so many of their movies: There's no John Goodman, John Turturro or Steve Buscemi. Gone, too, is much of that Coen humor, dry as the desert and icy landscapes they adore.
Instead of sardonic laughs, dread and menace fill the story of a welder who stumbles upon $2 million and a killer with lifeless eyes, a Moe Howard haircut and a disregard for life that makes Hannibal Lecter look like a purse snatcher.
But there remain unmistakable Coen touches, particularly an ending that has critics either rejoicing or fuming. Dogs play a big part. And like many of their caper films, there's a lot of cash at stake, and no real clue who gets it.
"My definition of a bad movie is one that's predictable," Ethan says. "We don't really care where the hell the money goes."
Since this year's Cannes Film Festival, the money has been on the Coens making another Oscar appearance. After a couple of critical and commercial missteps with The Ladykillers and Intolerable Cruelty, the brothers again have become part of the Academy Award conversation.
Just don't try having it with them. The two dread talking in public, particularly about their films'messages and prospects.
"Look, we thought the music from O Brother would be a flop," Ethan says of the bluegrass soundtrack that sold more than 6 million copies. "We figure most of what we do is going to be marginal."
Stars lineup for them
He has a point. The brothers have made 11 feature films, each taking in on average less than $19 million. By Hollywood standards, that's a poor opening weekend.
But it has done nothing to erode the Coens' cult following. Their weed-happy comedy The Big Lebowski did a middling $17.5 million when it came out in 1998. But it became such a home video hit that it spawned Lebowski Fest, an annual party in Louisville where party goers spend the weekend bowling, dressing as Jeff Bridge's character "The Dude" and, well, altering their minds.
And you can count Hollywood A-listers as devotees. Among those stars who snap up Coen scripts: George Clooney, Tom Hanks and Nicolas Cage.
Brad Pitt joins the fan club with next year's Burn After Reading, a comedy about two gym employees who come upon the memoirs of a CIA agent and try to sell them. Clooney co-stars in his third movie with the brothers.
"You don't do a Coen brothers movie," says Javier Bardem, who plays the villain in Country. "You pray forone."
But be careful what you pray for. Even actors admit they can be caught off guard by the filmmakers' approach.
When Bardem received the Country script, adapted from Cormac McCarthy's 2005 book, he worried he would have to beg off the film. Bardem's character, Anton Chigurh, is a murderous, carjacking psychopath who roams Texas' border cities.
"I told them that I hate violence, don't speak English that good and can't drive," Bardem says. "They said 'That's why we want you.' "
So Bardem sheepishly agreed to the brothers' prerequisite that he undergo weapons training. His target shooting consisted of lifting a shotgun, aiming and looking away as he fired.
That is, until Joel came up to Bardem and said only: "You're supposed to be the bad guy, Javier."
Working in silence
"They aren't talkative," says Country star Tommy Lee Jones, who isn't either. "They are thoroughly prepared and expect you to be. I don't know of anybody that's as thoroughly prepared as they are to direct a movie other than me or Clint Eastwood. I find it eminently respectable."
For the first half of shooting Country, Josh Brolin found it eminently terrifying.
"There's no fawning, no ego-stroking with them," says Brolin, who plays the country boy who finds the cash. "You'll end a scene, and they'll nod their heads, say 'OK,' and go on to the next one. I thought they hated what I was doing until I figured out that's just how they work."
A week before shooting, Brolin broke his collarbone in a motorcycle crash. He remembers flying over the hood of a car thinking "Damn, I really wanted to be in a Coen brothers movie."
So he hid the injury for a week. Finally, Ethan asked why he was moving so gingerly. Brolin admitted he broke his collarbone. "Which side?" Ethan asked. "The left," Brolin answered. "That's OK," Ethan responded. "You get shot on the left side, anyway. It will look more realistic that you're hurt."
Crime novels and dry humor
unless round is
blow
That's about as talkative as the brothers get. Joel, 52, and Ethan, 50, prefer to let their actors and movies do the talking. They spent much of their childhood free time shooting 8-millimeter short movies in the backyard of their St. Louis Park, Minn., home.
There was little plot and less dialogue. Usually, they'd re-create the action sequences from the cop show Mannix they'd seen the night before.
They also ate up the crime fiction of Raymond Chandler and James M. Cain.
Critics love to hail their movies as paeans to classic films. But often, Ethan says, their movies are a tribute to their favorite books.
"People thought when we made Miller's Crossing we were ripping off older gangster movies," Ethan says. "When what we were doing was ripping off Dashiell Hammett," who wrote the bleak crime novel The Glass Key.
Of course, those aren't comedy authors. And their dry humor came from somewhere. Consider some of their oft-quoted lines. From Raising Arizona, when baby abductor Evelle Snoats asks a grocer about their balloons:
Evelle: "These shapes and all?"
Grocer: "Well, no funny."
Or Bridges' toker from Lebowski: "Fortunately, I'm adhering to a pretty strict, uh, drug, uh, regimen to keep my mind, you know, uh, limber."
"I still don't believe they're simple boys from the Midwest," says Country star Kelly Macdonald. "They have dry humor. Like, European dry. Maybe that's a story they made up, too."
It wouldn't be the first time. When promoting O Brother, Where Art Thou?, Disney touted it as a Southern re-telling of Homer's The Odyssey. The brothers briefly denied ever reading it.
And then there's Roderick Jaynes. The name is a figment of the Coens' imagination and listed as the editor of their movies. So where did it come from? "Just something we made up," Ethan says. "It seemed silly to see our names listed on so many of the credits." Then he rethinks the answer. "Wait, don't write that," he says. "Say it's an anagram."
Scott Bowles
|
Comments Off
|