Tuesday, November 6, 2018 at 05:02PM
Throwing Dwayne Johnson across a room isn't easy.
Andy Fickman learned that the hard way. The director of "Race to Witch Mountain," out today, searched for weeks to find an actor who could toss the 6-foot-4, 250-pound hulk across a stage.
"You wouldn't believe how far down we had to go into Central Casting to find someone big enough to rough Dwayne up," Fickman says. "We were shopping for thugs. Finally, we just told Dwayne that when the actor grabs him, he may have to leap a little."
That, Johnson can do.
Few actors have made as many successful career jumps. From his troubled teenage years to a lucrative professional wrestling stint to, finally, Hollywood, Johnson has spent most of his life dodging typecasts.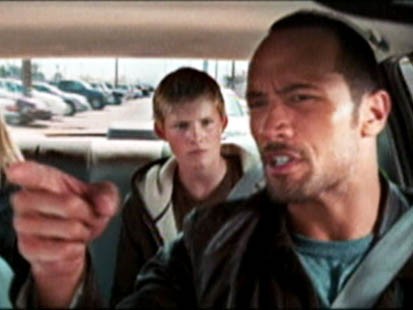 null
Yet he finds himself moving toward a brand few would have thought possible five years ago: family-film star.
He has given up wrestling. He no longer goes by "The Rock."
Instead, he has been starring in family-geared movies such as 2007's The Game Plan and last summer's "Get Smart." He appeared in the Disney Channel's "Cory in the House" and is hosting Nickelodeon's Kids' Choice Awards on March 28.
After "Mountain," a reboot of the 1970s Disney franchise, he'll star in the kid-friendly comedy"Tooth Fairy" and the animated Planet 51, both due in November.
And he's making no apologies to fans who still remember him best for cracking folding chairs over opponents' heads.
"When a family film is done well, there's a character that every member of the audience can relate to," he says during a break from shooting Mountain on the Disney lot. "I want to be one of those guys. I never wanted to be pigeonholed as the athlete who acted or the wrestler who did action movies."
It's understandable that Johnson works to shake the jock-turned-actor mantle. Few athletes have made a successful leap from sport to film.
"Mountain" could be a measure of just how far Johnson, 36, has come from his days as a football star and a wrestling icon. "Game Plan" and 2006's "Gridiron Gang" kept Johnson in a sports setting. In "Mountain," Johnson plays a cabbie who discovers two alien children on the run from extraterrestrials and government agents.
Like many of Johnson's career decisions, he took the role largely because few could picture him in it. In college, he approached the University of Miami because they didn't openly recruit him. He almost got the part in "Charlie and the Chocolate Factory" before director Tim Burton gave the role to friend Johnny Depp.
"If you tell me there's something I can't do, I'll want to do it even more," says Johnson. "Especially when it comes to entertaining. I knew early on that I wanted to entertain in some form. And I knew I would work as hard as anyone to do it."
Wrestling with success
He wasn't always a man with direction. Born in Hayward, Calif., Johnson moved often with his family as his father, the acclaimed wrestler Rocky Johnson, worked the local circuits.
By the time his family moved to Hawaii, Johnson was a problem kid. Arrested multiple times for theft and fighting, Johnson says he drifted until he discovered football. He earned a scholarship with the Hurricanes and played with NFL greats Ray Lewis and Warren Sapp.
Johnson played briefly with the Calgary Stampeders of the Canadian Football League, though he made so little money that he accepted a free mattress thrown away by a flophouse.
When a back injury ended his playing career at 24, Johnson slipped into depression and moved back in with his folks. "That was a defining moment for me," he says. "That's when I decided I'd train to be a wrestler."
Long before he was asking fans at a packed Madison Square Garden if they could "smell what The Rock is cookin'," Johnson was living a life similar to Mickey Rourke's has-been athlete in The Wrestler.
Johnson moved to Nashville and made $40 a day wrestling in tiny circuits before as few as 25 people in vacant barns, used car lots, anywhere you could fit a ring. He lived off grits and eggs at the Waffle House and put 1,500 miles a week on his Isuzu Rodeo driving from event to event.
"I wasn't making any money," he says. "But I loved it."
He corrects himself. "Well, I loved most of it. The entertainment part. But I saw these guys addicted to drugs, struggling to make a living, working well past their prime. I decided I wasn't going to be that guy."
Within a year, he was with the World Wrestling Federation (now World Wrestling Entertainment). Johnson, who is half Samoan and half African-American, would win seven WWE championships with moves like "The Samoan Drop" and "The People's Elbow."
"That was my first taste of acting in front of a big, live audience," Johnson says. "I didn't want to be the biggest wrestler out there, or the loudest. Just the most entertaining. I had found what I wanted to do."
But Johnson knew that wrestling, like football, was a career with an expiration date. He approached WWE head Vince McMahon about branching into TV. He made an appearance on short-lived show "The Net," followed by cameos on "That '70s Show" and "Star Trek: Voyager."
When he made his film debut in 2001's "The Mummy Returns," he had found a new career. He hired an acting coach and rented virtually every movie by Harrison Ford and Clint Eastwood.
"Those were my models," he says. "Guys who could be tough but self-deprecating, who weren't afraid to make fun of themselves. And who can act in virtually any genre."
In retrospect, Johnson says, acting could have been his first career choice. His mother, Ata Johnson, still has tapes of her boy as an 8-year-old, reciting dialogue from his favorite movies, "Silver Streak" and "Stir Crazy."
When he wasn't quoting Richard Pryor or Gene Wilder, Johnson was mimicking Elvis Presley — hip shakes and all.
"The first time I met Dwayne, I was a little nervous," says Fickman, who also directed Johnson in Game Plan. "Here comes this huge guy who sits next to me, leans in and asks what I think of Elvis Presley. He might as well have asked me what I thought about beer nuts, I was so caught off guard."
Always a few seconds for a fan
Even on set, Johnson is something of a changeling. When he gets around Fickman, Johnson can be as cutting as a stand-up comic. But when a girl who looks to be about 12 sheepishly approaches Johnson to have a photo taken, the divorced father of a 7-year-old girl comes through.
"Sure, honey," he says, bending his massive frame to get in the picture. "You just want one?"
The one role Johnson says he fears playing is the aloof star.
"I used to be that guy who didn't want to be seen or bothered," Johnson says. "I'd wear hats, sunglasses, anything to not be recognized."
Then his ex-wife, Dany, suggested that Johnson put himself in the shoes of his fans. The two went to a restaurant that night, and Johnson imagined that the patron at the next table was him, and he was a wrestling fanatic.
"I realized that that fan would remember for the rest of his life getting an autograph or a picture, and all it takes is three seconds of kindness," Johnson says. "Now when I see an actor who won't take that moment, it (ticks) me off."
Mountain co-star Carla Gugino believes that exercise helped make him a star. "There aren't many people I've worked with who appreciate where they are more than Dwayne, and people can sense when you're genuine," she says. "I think that's why he's so popular with kids. They think of him as their buddy."
Not that Johnson is ready to limit himself to juvenile fare. He says he's considering a couple of romantic comedies and a film similar in tone to "No Country for Old Men."
And he still loves performing live, having just hosted "Saturday Night Live."
But his sights are set higher.
"Maybe I'll give Broadway a try," he says. "But you know what would be great? Hosting the Oscars. I promise you, that would be a show no one forgot."
Scott Bowles
|
Comments Off
|